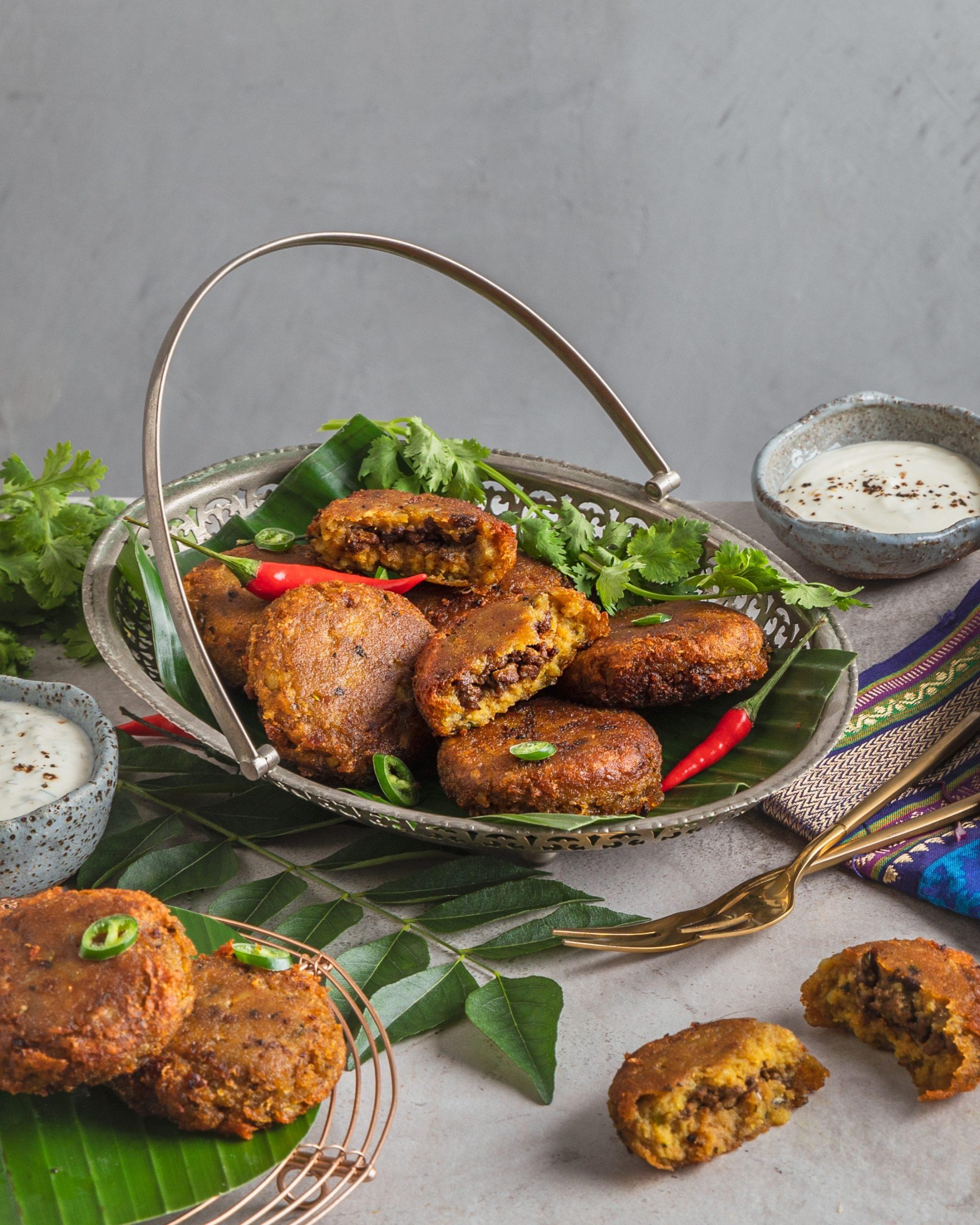 Aloo Tikki
Ingredients
FOR MEAT MIXTURE
Minced Chicken (or any meat of choice)

100 g

Garlic Clove

1

Garam Masala

2 tsp

Chilli Powder

2 tsp

Coriander Powder

1 tsp

Salt & pepper
FOR MASH MIX
Potatoes

450 g

Garlic Cloves

2

Ginger, grated

1 cm

Red Onion, minced

1

Fresh Coriander

1 stalk

Garam Masala

1 tsp

Coriander Powder

1 tsp

Turmeric Powder
1⁄2 tsp
Chilli Powder
1⁄2 tsp
Cumin Powder
1⁄2 tsp
Salt & pepper

1 tsp

Corn flour

2 tbsp

FOR GARLIC-LIME YOGHURT
Greek Yoghurt

140 g

Garlic Clove

1

Lime
1⁄2
FOR GARNISH
Fresh Coriander
How to cook
Step 1
Minced Meat Mix: Heat 2 tbsp of oil in a pan over med heat. Combine the minced chicken with all the other ingredients and fry for 4 – 5 mins or until the minced meat is dry. This will help to prevent the filling from adding more moisture to the potato mix.
Step 2
Add your potatoes into a pot and fill with enough water to submerge them. Place it over medium-high heat and bring to a boil. Reduce to a simmer until potatoes are fork tender, about 10 – 12mins depending on their size.
Step 3
Once cooked, drain the potatoes and remove the skin. Let the potatoes steam dry for 3 mins to remove excess moisture. Add in all remaining ingredients and mash the potato well.
Step 4
With lightly oiled hands, shape the mash into a circular puck shape at least 2 cm high. If adding fillings, make an indent in the center of the puck and add 2 tsp of filling. Fold the edges into the center to wrap the filling and pat it down to reshape it back into a puck.
Step 5
In a non-stick pan, add enough oil to cover the base of the pan for shallow frying over medium-high heat. Pan fry each side of the patty for 2 mins or until brown. Flip only when the bottom edges start to turn brown. Serve with garlic-lime yoghurt dip.