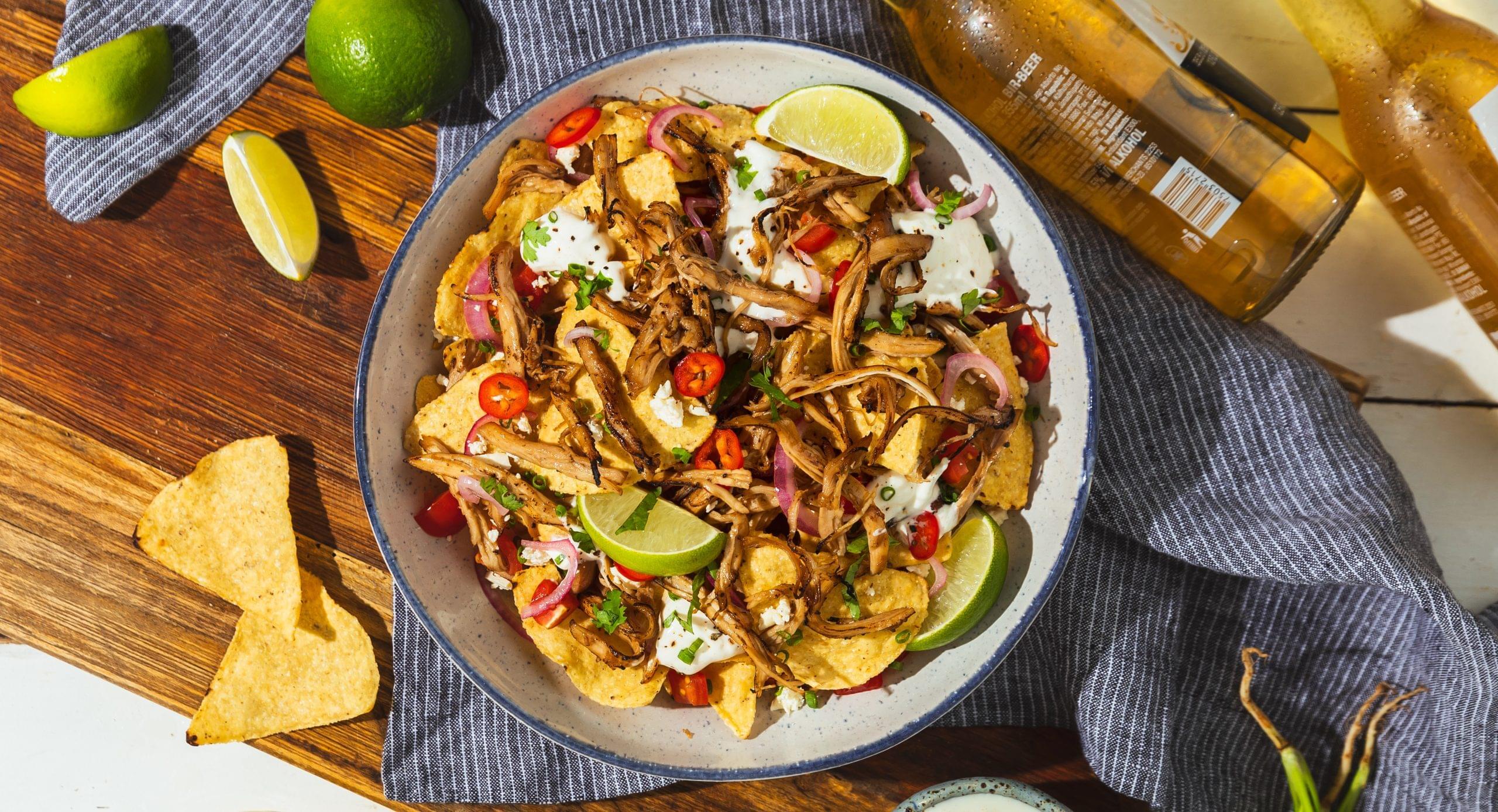 Beer Braised Chicken Nachos
Ingredients
Beer Braised Chicken
Chicken thighs

2

Mustard

1 tbsp

Brown sugar

1 tbsp

Soy sauce

1 tbsp

Garlic, thinly sliced

3 cloves

Red onion, thinly sliced

1

Bay leaf

1

Chicken stock powder

2 tsp

Dark beer/stout

500 ml

Salt & black pepper, to taste

1 tsp

Nachos
Tortilla chips

1 bag

tub Sour cream

1

Feta, crumbled

1

Spring onion, finely chopped

1

Cherry tomato, diced

6

Red chili, thinly sliced

1

Garnish (Optional)
Sauerkraut
How to cook
Step 1
In a saucepan over medium heat, sear the chicken thighs on both sides until golden brown. Set aside.
Step 2
Add in the garlic & onion and fry until softened, about 1 min.
Step 3
Add in remaining ingredients with seared chicken and bring to a boil.
Step 4
Reduce to a simmer and cook for 20 – 30 mins until chicken is pull-apart tender and sauce is reduced.
Step 5
Remove chicken thigh from braise and rest for 10 mins.
Step 6
Chop or pull the meat into bite sized pieces and mix it with 2 – 3 tbsp of the reduced braising liquid.
Assembly:
Start with a base of tortilla chips, followed by chicken, dollops of sour cream, crumbled feta, tomato, chili & spring onion in that order.
You can also add some sauerkraut if you like a bit of tartness.