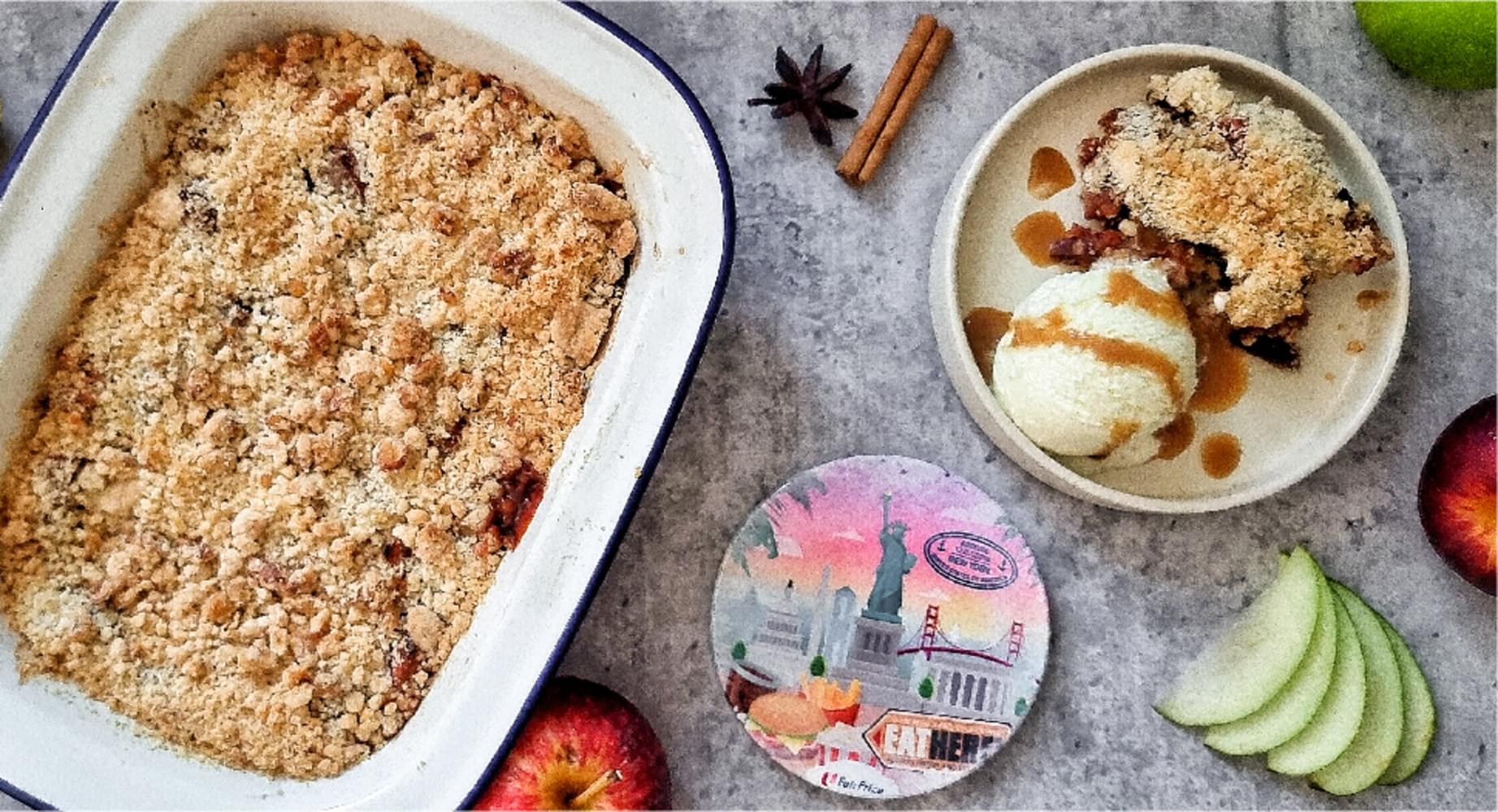 Caramelised Apple Crumble
Ingredients
Crumble Mix

All-Purpose Flour

150 g

Caster Sugar

50 g

Unsalted Butter

75 g

Walnuts (chopped)

40 g

Instant Oats

20 g

Salt

1 pinch

Apple Filling

Granny Smith Apples (grated)

3

Royal Gala Apples (cubed)

6

Caster Sugar

100 g

Unsalted Butter

40 g

Honey

2 tbsp

Star Anise

2

Water, as needed

Lemon Zest

A squeeze of lemon juice

A dusting of cinnamon sugar
How to cook
Prepare the crumble mix
Add the flour, caster sugar, oats, chopped walnuts and a pinch of salt.
Mix well, then work in the butter until they resemble breadcrumbs. Chill until needed.
Make the caramelised apple sauce
Make a dry caramel with the caster sugar. Once the caramel turns light brown, add the butter.
Add grated granny smith apples and cook until it becomes a puree. Add a few tablespoons of water to water down the caramel.
Add the Royal Gala Apples and star anise into the mixture. Cook until caramelised, then remove the star anise. Add in the honey.
Prepare to bake and serve after!
Lightly grease the enamel tin with butter. Spread the apple mix at the base of the tray, and sprinkle a light layer of cinnamon sugar.
Pour over the crumble mix evenly. Dust with more cinnamon sugar.
Bake in the oven at 180°C for 30 mins, then 200°C for 15 mins.
Serve warm with some ice cream. It could be vanilla or any other flavour you prefer!
Tried this recipe? Rate it!