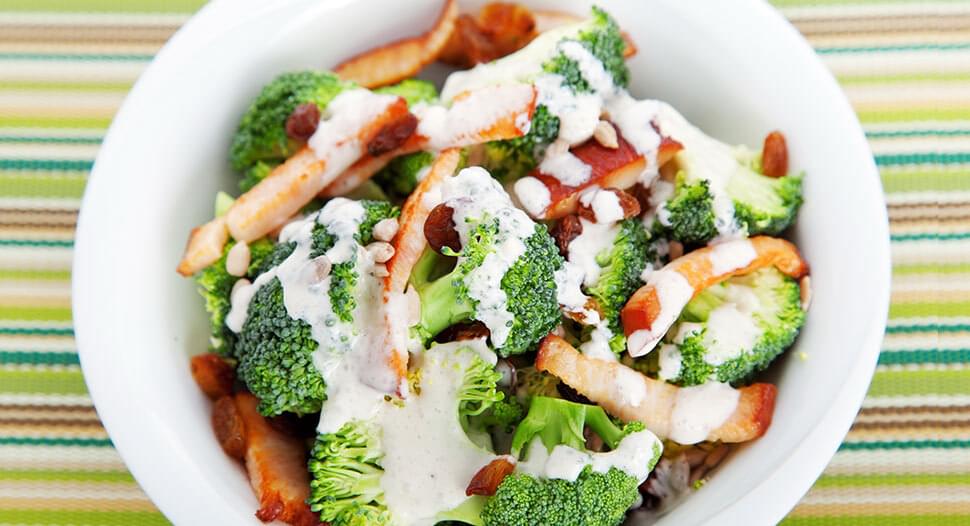 Chicken Broccoli Salad
Ingredients
| | |
| --- | --- |
| YOLO Healthy Food Mixed Salad | 150 g |
| YOLO Healthy Food Broccoli cubes | 250 g |
| Boneless Chicken Breast | 1 |
| Sliced Olives | 2 tbsp |
| Nature's Wonders Baked Nuts – USA Walnuts | 1⁄4 cup |
| Mayonnaise or Roasted Sesame Dressing | 2 tbsp |
How to cook
Step 1
Take 1 piece of chicken breast out to thaw before cooking.
Step 2
Bring a medium pot of water to a boil. Fill a medium bowl with cold water.
Step 4
Blanch the broccoli in the medium boiling water till bright green and crisp tender, 50 seconds. Use a slotted ladle to transfer to the cold water, then drain.
Step 5
Cut the chicken breast into small bite size and ½ inch thickness. Season with some pepper and salt.
Step 6
Bring a non-stick pan to medium heat. Cook chicken for about 3 to 4 minutes per side, until cooked through.
Step 7
In a small bowl, combine all the cooked ingredients, salad mix, sliced olives and walnuts together.
Step 8
Add in your favourite salad dressing , mix well and enjoy eating.