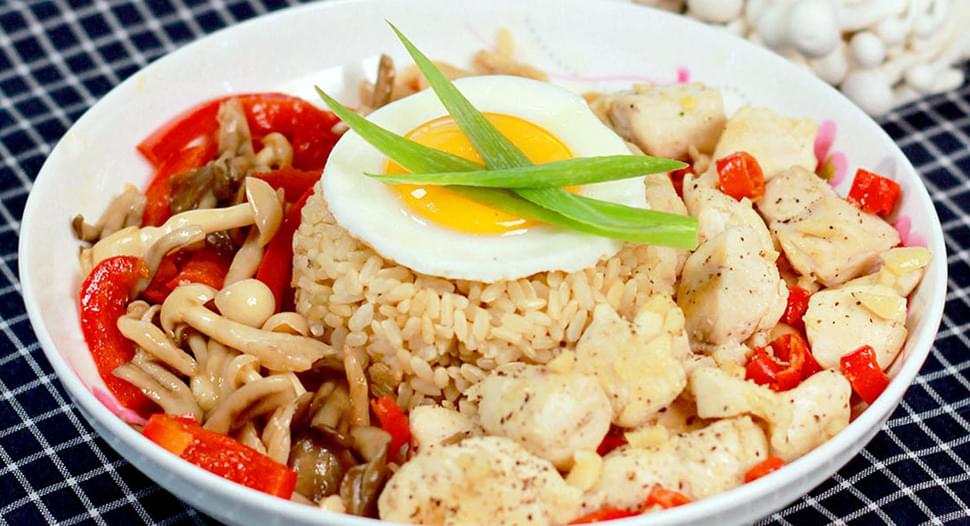 Chicken Capsicum Rice Bowl
Ingredients
| | |
| --- | --- |
| Chicken Tenders | 300 g |
| Shimeji Mushrooms | 100 g |
| Chilli Padi | 5 |
| Red Capsicum (sliced) | 150 g |
| Medium sized eggs | 2 |
| Brown Rice | 1 cup |
| Soy Sauce (can be substituted with light soy sauce) | 1 tbsp |
| Pepper | 1 tsp |
| Olive Oil | 2 1⁄2 tbsp |
| Freshly Minced Garlic | 1⁄2 tbsp |
| Lemon Juice | 1 tsp |
How to cook
Step 1
Cook brown rice in rice cooker.
Step 2
Slice chicken tenders to bite size pieces and season with garlic, pepper and soy sauce. Leave aside for 10 minutes.
Step 3
Slice chilli padi and remove seeds.
Step 4
Add 1 tbsp of olive oil and fry sunny side up eggs. Remove from pan and set aside.
Step 5
Add 1 tbsp of olive oil and stir fry chicken tenders till slightly brown.
Step 6
Add chilli padi and fry for 2 minutes. Dish out the chicken tenders, garlic and chilli padi onto the serving plate.
Step 7
Using the same pan, add ½ tbsp olive oil and fry chopped capsicum and mushrooms till soft (approximately 2 minutes).
Step 8
Assemble brown rice, chicken, capsicum, mushrooms and sunny side up eggs in a bowl. Drizzle a bit of lemon juice on top.