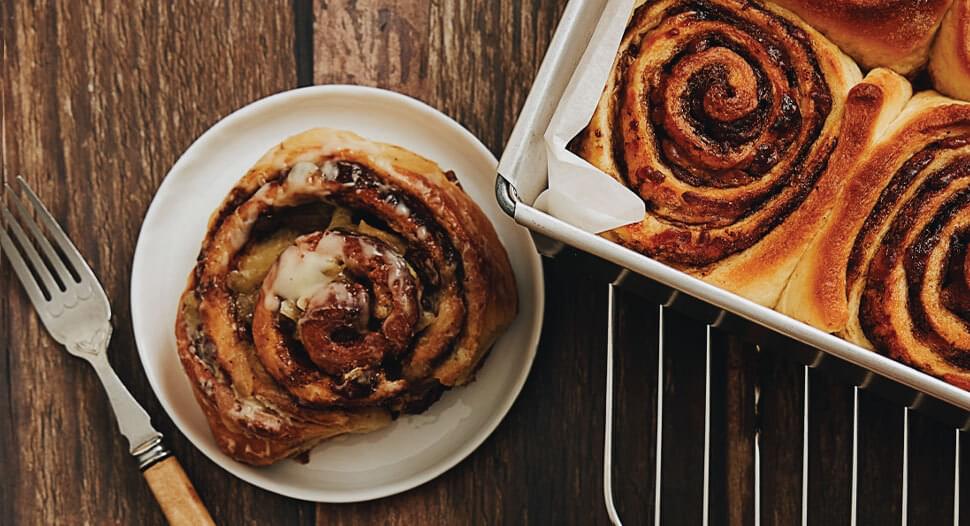 Cinnamon Mozzarella Rolls
Ingredients
all-purpose flour

600 g

granulated sugar

110 g

granulated salt

7 g

unsalted butter

soft

85 g

full-fat UHT milk

room temperature

235 g

instant yeast

7 g

eggs

medium size

2

egg

yolk only

1

Perfect Italiano Mozzarella Grated Cheese

250 g

brown sugar

180 g

cinnamon (or to taste)

20 g

unsalted butter

super soft

85 g

cream cheese

115 g

icing sugar

90 g

vanilla powder/essence

1 tsp

full-fat UHT milk

45 ml
How to cook
Step 1
Add flour, sugar, and salt to a stand mixer bowl and whisk. Combine with softened butter thoroughly incorporated.
Step 2
Dissolve yeast into room temperature milk.
Step 3
Mix flour mixture on medium low speed and add yeast milk mixture, eggs and egg yolk. Mix for 10 minutes or until smooth.
Step 4
Place dough onto lightly floured work surface and knead for about a minute or two and smooth it out.
Step 5
Roll into ball and let sit in a bowl covered, proof for 1 hours or until it doubles in size.
Step 6
To make the cinnamon sugar, whisk together brown sugar and cinnamon powder.
Step 7
Flour a flat surface for the dough. Flatten into thick, large rectangles. Spread softened butter across the surface of dough.
Step 8
Sprinkle cinnamon sugar, then Perfect Italiano Mozzarella Grated Cheese evenly.
Step 9
Tightly roll lengthwise and cut with a serrated knife into about thick segments.
Step 10
Lightly grease a big enough baking dish and fill with rolls – have their tails face each other. Proof rolls for about 35 minutes or until it is 1.5x original size.
Step 11
Bake in preheated oven at 190°C for 20-25 minutes or until plump and golden brown.
Step 12
To make the glaze, whisk cream cheese until smooth first then add icing sugar, milk and vanilla powder. Drizzle onto baked rolls.