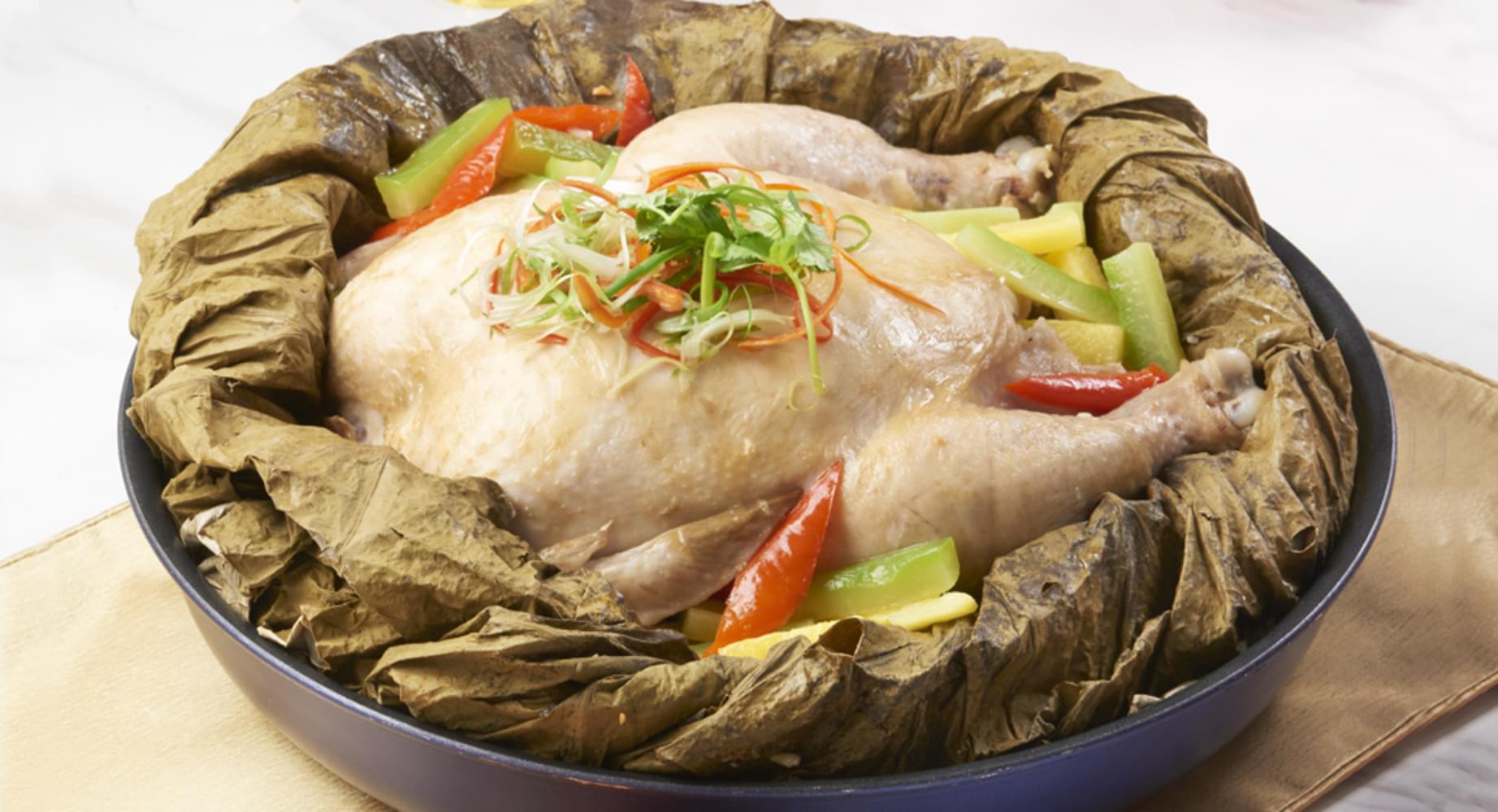 Fragrant Bitter Gourd Chicken
Ingredients
Chicken

jumbo sized

1

Lotus Leaves

blanched

2

Bitter Gourd

cut into thick strips

200 g

Pineapple

cut into thick strips

200 g

Chicken Stock

150 ml

Salted Soy Beans

whole

50 g

Garlic

minced

3 cloves

Red Chilli Padi

halved lengthwise

2

Red Chillies

large sized, deseeded and cut into chunks

2

Corn Starch

mixed with water

Red Chillies

for garnish

Coriander

for garnish

Spring Onions

for garnish

Sugar

1 tbsp

Cooking Oil

1 tbsp
How to cook
Prepare the chicken
Remove the spare parts from the chicken cavity.
Rinse and clean the chicken.
Prepare the lotus leaves
Blanch 2 lotus leaves in hot water and rinse.
Stack the lotus leaves.
Marinate the chicken
Place the chicken belly down on the stacked lotus leaves.
Season both the inside and outside of chicken with salt then set aside.
Start cooking
In a heated frying pan, add oil and sauté garlic, salted soy beans and red chilli padi till fragrant.
Add the bitter gourd and pineapple, and fry for 2 minutes over medium-high heat.
Add the red chillies and chicken stock, then bring it to a boil.
Add sugar, then thicken the mixture with corn starch.
Pour the mixture over the chicken and wrap it firmly with the lotus leaves.
Fold aluminium foil into a long strip, then wrap the foil around the leaves to secure it.
Steam for 45-50 minutes.
Remove from the steamer then unwrap the foil and lotus leaves before serving.
Garnish with coriander, spring onions and red chillies.
Tried this recipe? Rate it!