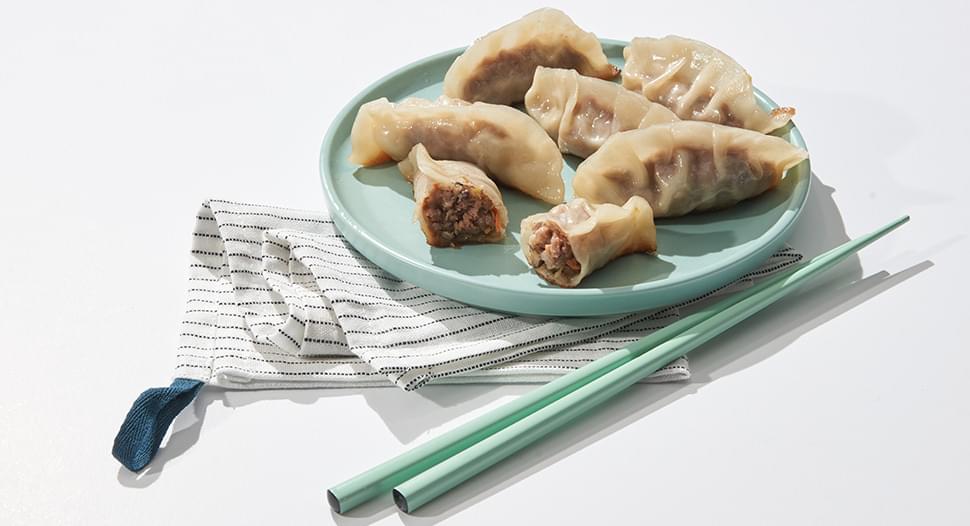 Fried Impossible Potstickers
Ingredients
| | |
| --- | --- |
| Impossible Meat | 340 g |
| Shitake Mushrooms | 4 |
| Salt | 1 tsp |
| White pepper powder | 1⁄2 tsp |
| Corn-starch | 1 tbsp |
| Sesame Oil | 1 tbsp |
| Round dumpling wrapper | 30 |
| Small carrot | 1⁄4 |
| Baby Chinese Cabbage | 100 g |
How to cook
Prepare the filling
Clean and shred baby Chinese cabbage.
Clean and cut shiitake mushrooms into thin slices.
Peel and shred carrots.
Combine all the ingredients (except dumpling wrapper) and mix well.
Fold the dumplings
Dip your finger with a bit of fresh water and moisten the outer edges of half the dumpling wrapper.
Use about 2 teaspoons of the fillings place over in the middle of the wrapper then fold into a "half moon" shape.
Start by pinching the dumpling wrapper together at one of the bottom corners.
Take the side of the dumpling wrapper facing away from you and pleat it towards the corner you've already sealed.
When you've reached the other end, seal the dumpling completely and tightly.
Repeat the rest of steps to finish the rest of the ingredients and wrappers.
Cook the dumplings
Add 4 – 6 tbsp of oil into a large frying pan.
Place the dumplings in an orderly form inside the pan then set it to medium heat, pan fry until the dumplings are slightly golden about 8 – 10 minutes.
Drizzle about 3 tbsp of water over the dumplings then cover pan with lid, cook until water evaporates about 2 – 3 minutes.
Turn off heat and serve.