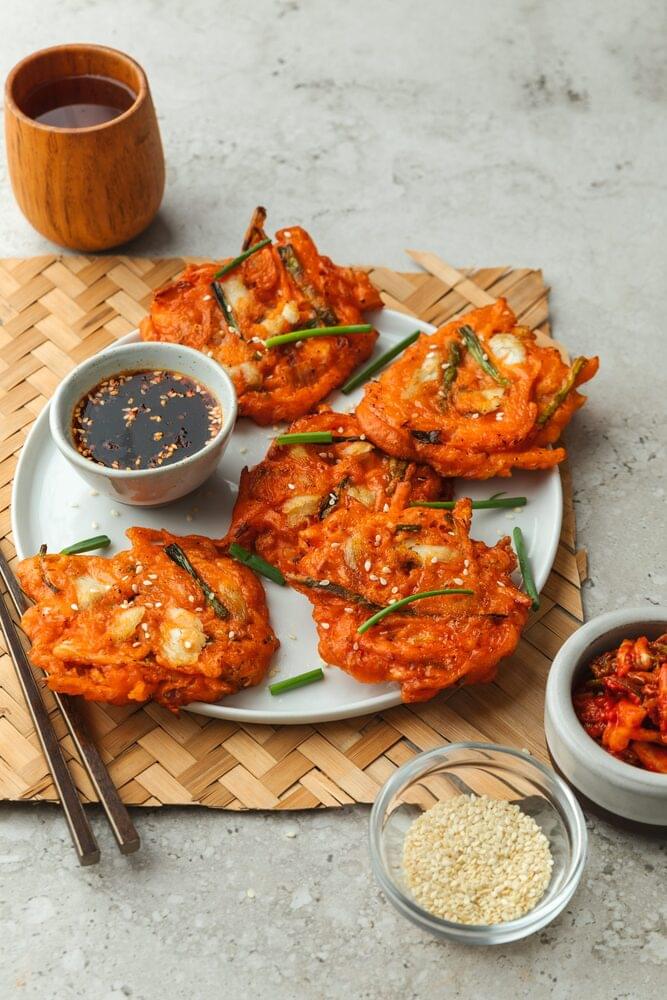 Kimchi Fish Pancake Fritters
Ingredients
Fillings

Seabass Fillet

or any fish of your choice

100 g

Kimchi

roughly chopped into small chunks

100 g

Carrot

grated

130 g

Spring Onion

thinly chopped

2

Sesame Seeds

1 tbsp

Vegetable Oil

for frying

Batter Mix

Tempura Mix

1 1⁄4 cups

Water

cold

250 ml

Salt

1⁄2 tsp

White Pepper

1⁄2 tsp
Dipping Sauce

Soy Sauce

3 tbsp

Rice Vinegar

2 tbsp

Sesame Seeds

1 tsp

Chilli Flakes

optional

1 tsp
How to cook
Prepare the fillings
Cook the fish based on your preference (could be fried or steamed) then pull apart the cooked fish into small chunks.
Squeeze out the excess carrot juice from the grated carrots so that it does not dilute the batter.
Prepare the dipping sauce
Combine the rice vinegar, soy sauce sesame seeds and chilli flakes together.
Prepare the batter mix
Combine the tempura mix, cold water, salt and pepper thoroughly until its consistency resembles that of a pancake batter.
Start cooking
Add the cooked fished chunks, grated carrot and chopped kimchi to the batter mix.
Evenly coat all the prepared fillings with the batter mix.
Heat up the 4 tablespoons of oil in a pan over medium to high heat.
Spoon ¼ cup of the batter mix and flatten it out to roughly 0.5cm thick (or thinner if you want it crispier).
Fry 1-2 minutes on each side or until brown and to your desired crispiness.
Serve with the piping hot kimchi fish pancake fritters with the dipping sauce and enjoy!