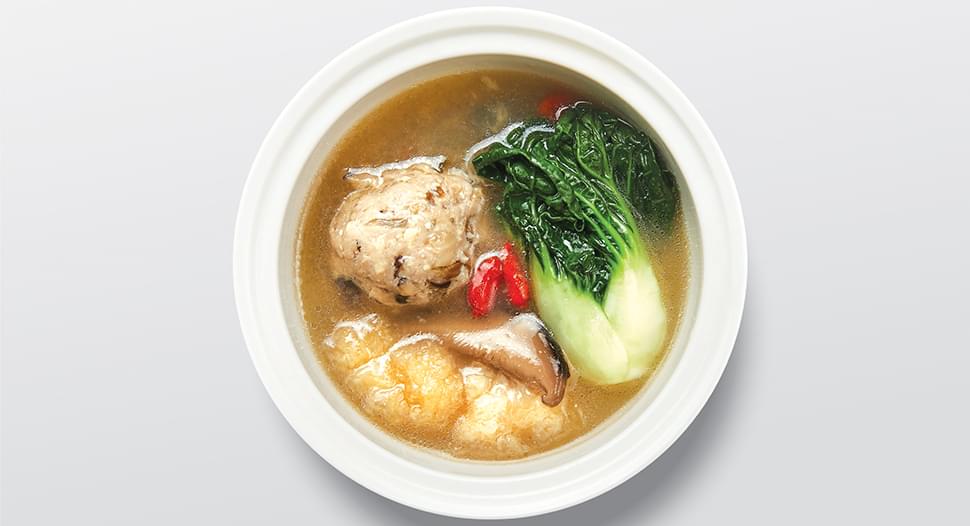 Lion Head Fish Maw Soup
Ingredients
| | |
| --- | --- |
| Fish Maw Soup | 2 cans |
| Pork belly | 300 g |
| Nai Bai | 12 |
| Fresh Shitake mushroom | 3 |
| Bamboo shoot | 3 |
| Tau Kwa | 1⁄4 |
| Mei cai | 1 tbsp |
| Dong cai | 1 tbsp |
| White onion | 1⁄2 |
| Wolfberries | 1 tbsp |
| Chinese wine | 1 tbsp |
| Sesame oil | 1⁄2 tsp |
| Corn flour | 1 tbsp |
| Salt | 1⁄2 tsp |
| Sugar | 1⁄2 tsp |
| Water | 200 ml |
How to cook
Start cooking
Mix pork belly (minced), Shitake mushrooms (diced), bamboo shoots (diced), white onions (diced), tau kwa (chopped), dong cai (rinsed & diced), mei cai (rinsed & diced), salt, sugar and corn flour together well.
Form into a ball (50g each) and set aside.
Bring the fish maw soup to a boil, then add in the meatballs piece by piece.
Simmer the meatballs over slow heat till cooked. Add in wolfberries and Chinese wine.
Blanch the nai bai over boiling water and arrange on a deep dish.
Pour the meatballs and the fish maw soup over it. Serve hot.