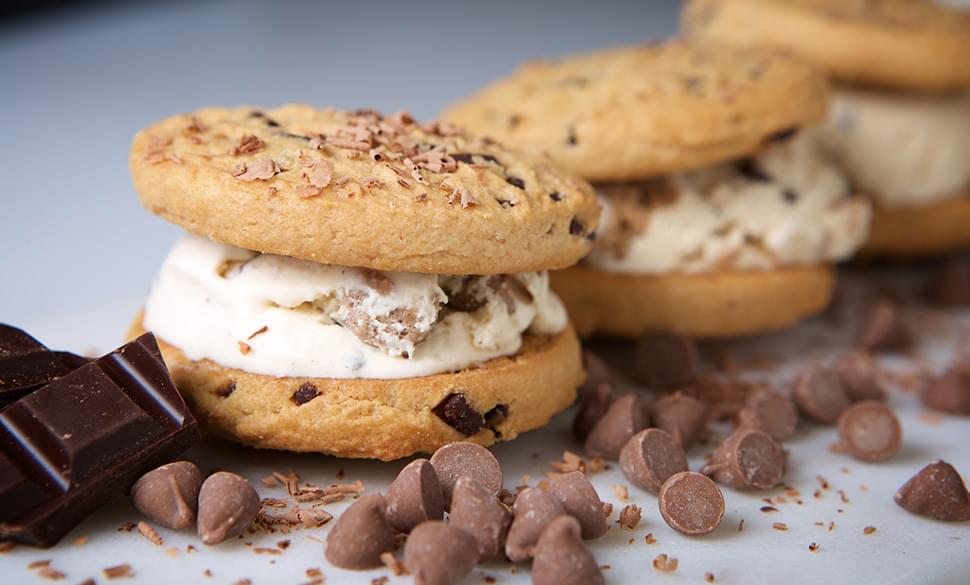 New Zealand Natural Ice Cream Cookies
Ingredients
| | |
| --- | --- |
| Large chewy choc chip cookies (or any of your favourite flavour) | 2 |
| Coating (can be any dry ingredient such as nuts, chocolate, dried or freeze dried fruit, marshmallow, biscuit crumb, chocolate powder) | |
| Your favourite New Zealand Natural ice cream | |
How to cook
Step 1
Remove a tub of your favourite New Zealand Natural ice cream from the freezer 5 minutes ahead of time.
Step 2
Prepare your coating (grated chocolate, chop dried fruit, marshmallow or nuts, crush freeze dried fruit or let your imagination guide you) and place on a plate.
Step 3
Using a scoop, roll a scoop of ice cream and place on the flat side of the cookie.
Step 4
Using the back of a spoon, flatten the scoop.
Step 5
Sprinkle a little of the coating on the ice cream, if you fancy it, then flatten with back of spoon.
Step 6
Place the other cookie on the top.
Step 7
Then simply roll the side of the cookie on the plate to coat the ice cream with the coating, and enjoy!