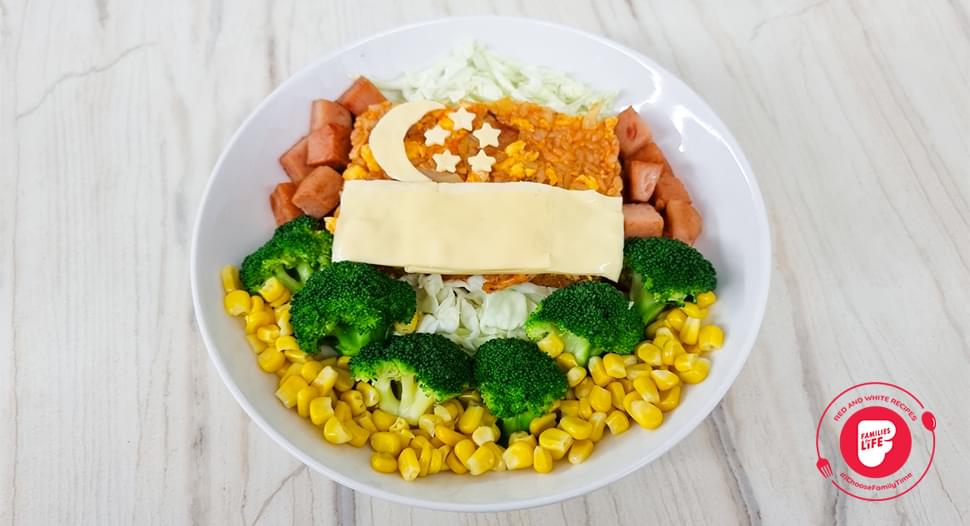 Tomato Fried Rice
Ingredients
For Fried Rice

Rice

overnight rice

1 bowl

Eggs

2

Luncheon Meat

diced

1⁄2 cup

Crab Stick

2

Cheese

sliced

2 slabs

Tomato

diced

1

Frozen Mixed Vegetables

3 tbsp

Oil

2 tbsp

For Seasoning

Ikan Bilis Powder

1 tbsp

Tomato Sauce

1 tbsp

Fried Garlic Bits

1 tbsp

Light Soya Sauce

or fish sauce

1 tbsp

Salt & White Pepper

1 dash
How to cook
Cook rice
To save time, prepare and cook the rice first since it typically takes about 30-45 minutes until it's ready.
If you prefer a drier texture use overnight rice.
Start cooking
Heat a frying pan, and add oil when the pan is heated.
When the oil is heated, add the eggs and scramble until it is about 80% cooked, stir in the rice and mix well.
When the rice is coated with the eggs, add in the frozen vegetables and mix well.
Sprinkle the seasoning (ikan bilis powder, salt & white paper, tomato sauce) and continue to stir fry until the seasoning, frozen vegetables and rice are well mixed.
Drizzle light soya sauce or fish sauce and stir fry till the rice is dry.
Add the diced luncheon meat and garlic bits and mix well.
Transfer to a plate and garnish the dish with cheese crescent moon & stars and greens of your choice.