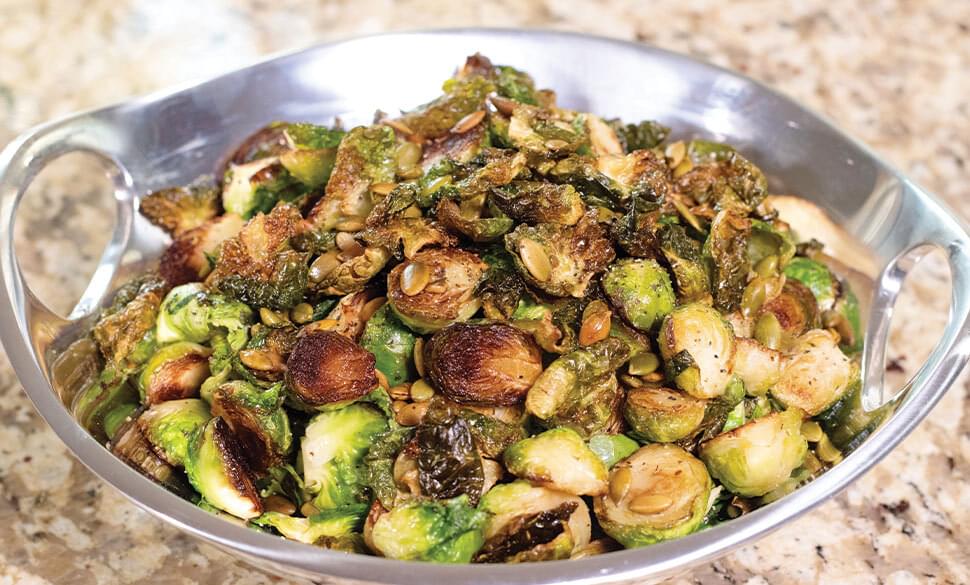 Roasted Pumpkin Seed Brussels Sprouts
Ingredients
| | |
| --- | --- |
| Brussels sprouts (organic if possible – washed well) | 900 g |
| Raw organic green pumpkin seeds | 1⁄4 cup |
| Organic extra virgin olive oil | 2 tbsp |
| Ground black pepper | 1⁄2 tsp |
| Organic maple syrup | 2 tbsp |
How to cook
Step 1
Preheat your oven to 205°C.
Step 2
Thoroughly clean each brussels sprout, making sure to remove any outer wilted leaves and trim bottoms if needed.
Step 3
Cut each sprout into half so that they are all around the same size.
Step 4
Place on a rimmed baking sheet or you can use parchment paper, drizzle the olive oil evenly and sprinkle with pepper.
Step 5
Toss the sprouts until well coated.
Step 6
Roast for ~25 mins, making sure to stir 1-2 times so they are getting cooked on both sides. Sprouts will get slightly browned and just tender when pierced at the base.
Step 7
Drizzle the sprouts with maple syrup and toss with pumpkin seeds.
Step 8
Roast for ~5 additional minutes until pumpkin seeds are just toasted. Keep your eye on it. You want the dish perfectly browned, but not burnt.