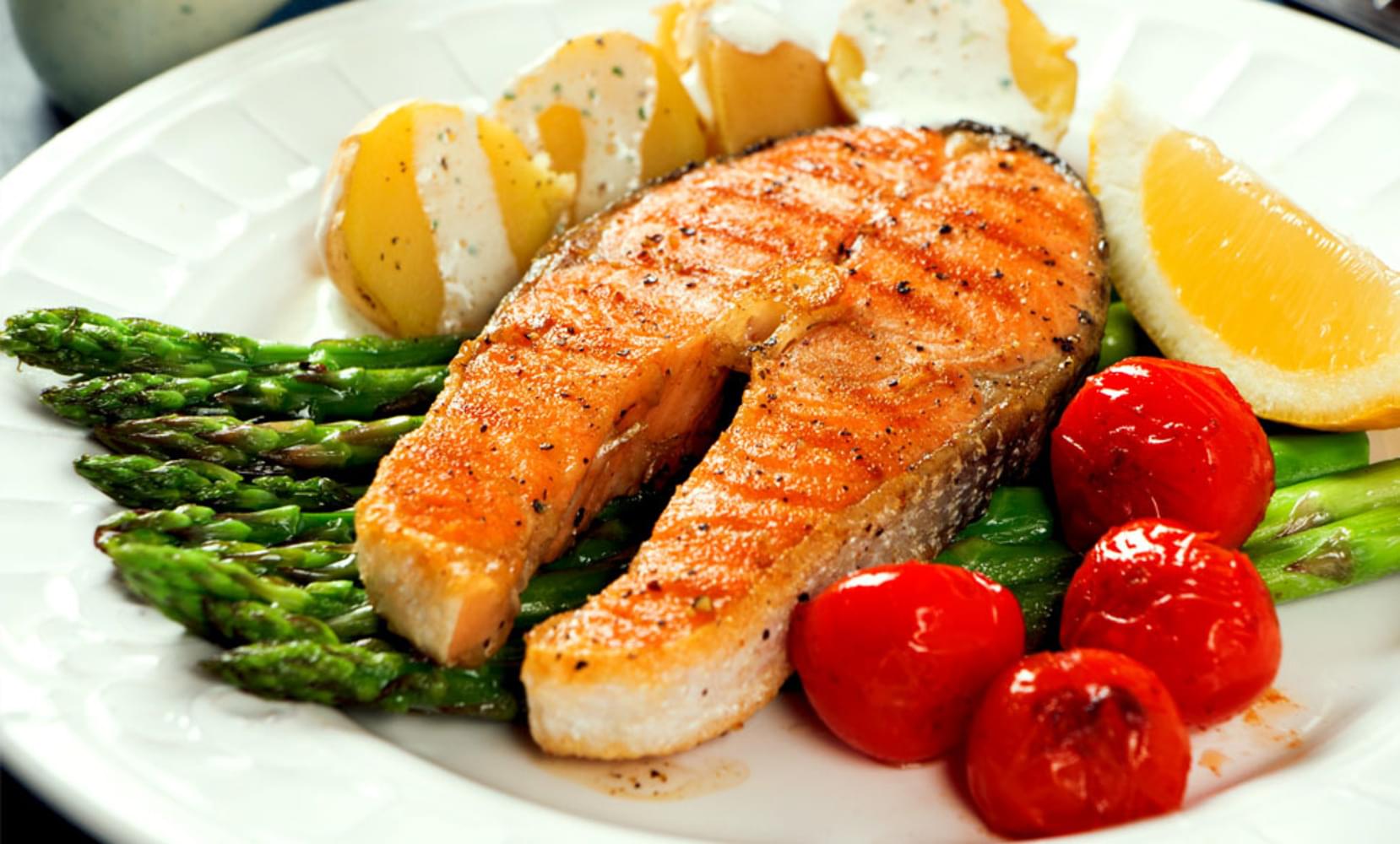 Roasted Salmon and Vegetables with Cucumber Yogurt Sauce
Ingredients
Salmon Fillet

about 150g each

4

Asparagus

trimmed and halved

12

Carrot

large cubes

1

Cherry Tomatoes

around 2 handfuls

160 g

Green Bell Pepper

de-seed and large cubes

1

Russet Potatoes

large cubes

450 g

Garlic

minced

1 clove

Olive Oil

3 tbsp

Balsamic Vinegar

1 1⁄2 tbsp

Salt

to taste

Pepper

to taste

Cucumber Yoghurt Sauce

Cucumber

grated, and excess water squeezed out

1⁄2

Plain Yoghurt

1 cup

Fresh Dill

chopped, plus extra sprigs for garnish (optional)

2 tsp

Garlic

minced

1 clove

Lemon

juice

1 tbsp
How to cook
Prepare ingredients
In a small bowl, stir together the cucumber, yogurt, dill, minced garlic, lemon juice, salt and pepper to taste. Set aside.
Rinse salmon and pat dry.
Start cooking
Heat oven to 200°C.
Add the potatoes, carrots and 1 tbsp of olive oil into an ovenproof dish or baking tray lined with baking paper.
Roast the potatoes for 20 minutes until they start to brown.
Toss the asparagus and bell pepper in with the potatoes, then return to the oven for 15-20 minutes.
Throw in the cherry tomatoes and balsamic vinegar and nestle the salmon skin side down in the pan amongst the vegetables.
Drizzle the remaining olive oil over the pan. Sprinkle with remaining minced garlic, lemon juice, and salt and pepper to taste.
Bake until barely opaque in the center, 10-15 minutes.
Serve everything scooped straight from the dish. Garnish with sprigs of dill.
Tried this recipe? Rate it!