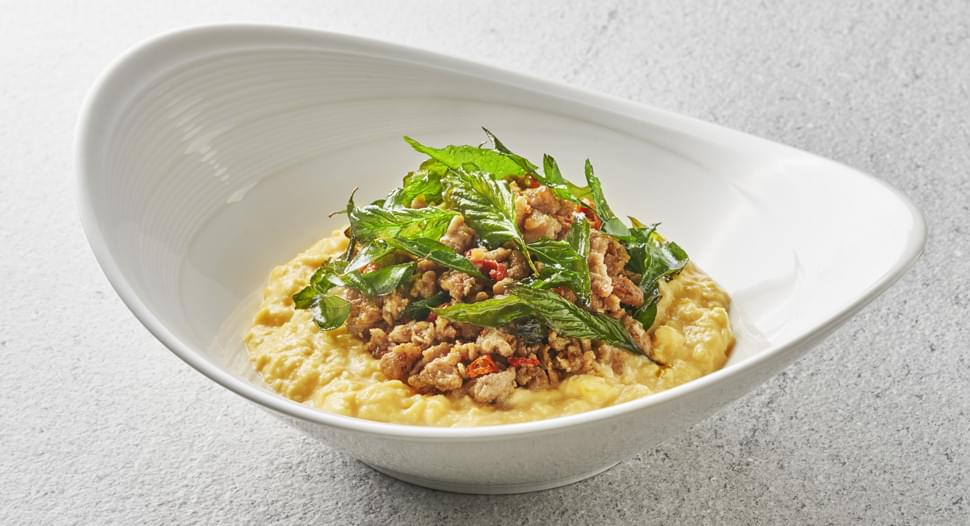 Scrambled Eggs with Crispy Basil Chicken
Ingredients
Scrambled Eggs

large Eggs

9

Fish Sauce

1 1⁄2 tbsp

Whipping Cream

70 ml

White Pepper Powder

1⁄2 tsp

Brown Sugar

1⁄2 tsp
Basil Chicken

Minced chicken

300 g

Thai Basil Leaf (or Purple and Sweet Basil)

1⁄2 cup

White Pepper Powder

1 tsp

Garlic, minced

3 cloves

Shallots, minced

2

Oil

2 tbsp

Basil Chicken Sauce Mix

Brown Sugar

2 tbsp

Fish Sauce

2 tbsp

Oyster Sauce

1 tbsp

Garnishing

Curry Leaf

1⁄4 cup

large Holy Basil Leaves

6
How to cook
Step 1
Crack the eggs into a bowl. Whisk well with whipping cream, white pepper, sugar and fish sauce. Set the egg mixture aside for 15 mins.
Step 2
Sauté garlic and shallots on medium heat for 5 mins in a heavy-bottomed frying pan.
Step 3
Mix the sauces for the basil chicken. Add half of this sauce mix into the pan with garlic and shallots until the liquid has reduced to almost half in volume.
Step 4
Add minced chicken into the pan and cook on high heat. Stir constantly.
Step 5
Add the remainder of sauce mix and Thai Basil Leaf, then cook for 3 mins.
Step 6
Pour in the egg mixture as the chicken is being cooked. Stir constantly.
Step 7
When the egg mixture starts to solidify into curds at the bottom of the pan, remove from heat and stir gently, then place back on heat to carry on cooking.
Step 8
Repeat this step 4-5 times until the scrambled eggs are creamy and similar to custard. Do not use too much heat and to prevent scrambled eggs from being dry and crumbly.
Step 9
Deep fry curry leaf and holy basil leaf till crispy, then drain on paper towels.
Step 10
Plate the scrambled eggs, minced chicken and top with crispy leaves. Serve immediately!