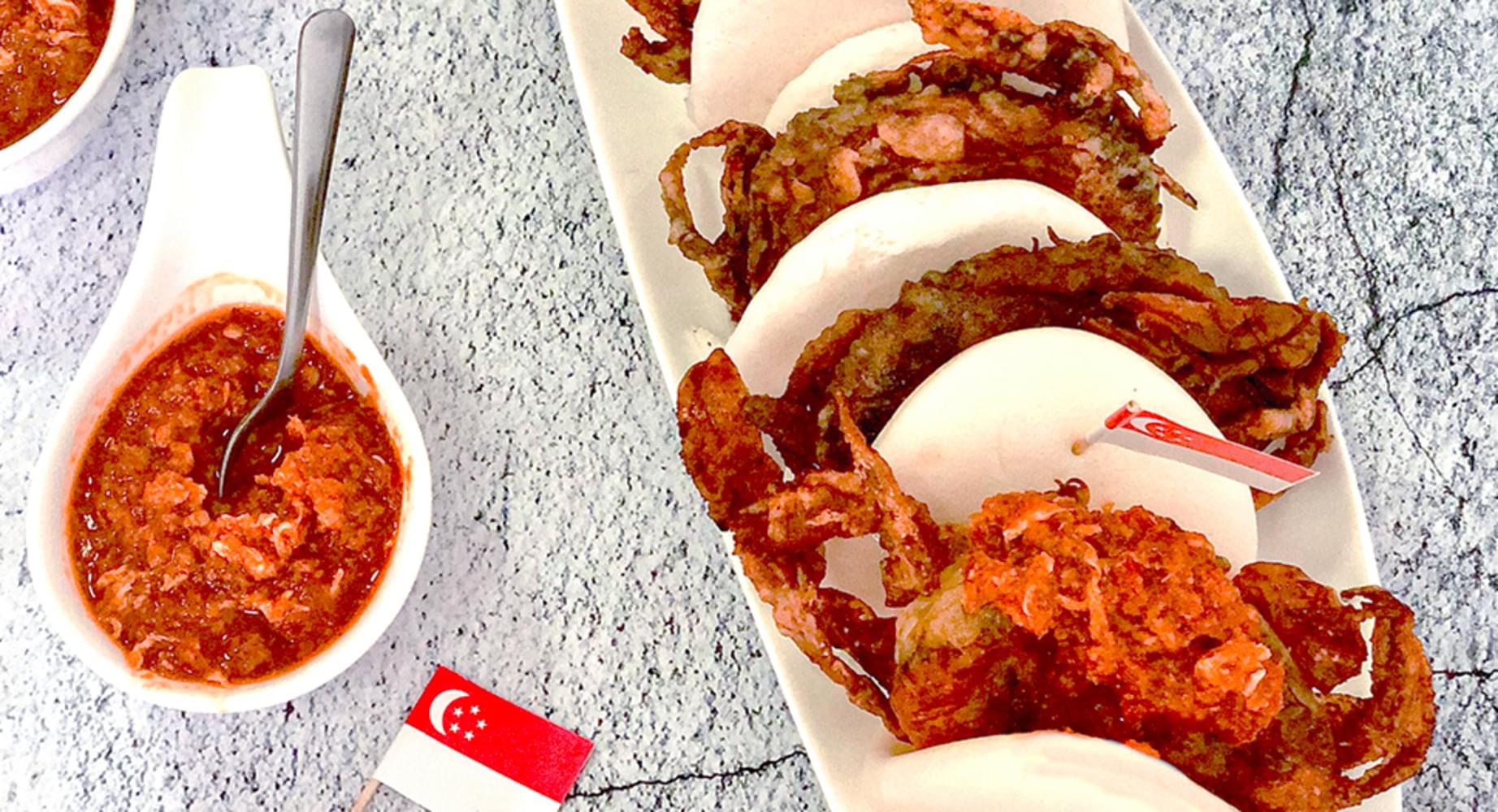 Softshell Chilli Crab Gua Bao
Ingredients
Lotus Leaf Buns

5 pieces

Egg (beaten)

1

Spring onions and/or coriander for garnishing

Softshell Chilli Crab

Softshell Crabs (rinsed and gently patted to dry)

5

All-Purpose Flour

1⁄4 cup

Rice Flour

1⁄4 cup

FairPrice Canola Oil

2 cups

Ground black pepper to taste

Salt to taste

Spice Paste

Shallots

4

CHEF China Garlic

5 cloves

Belacan (toasted)

1 tsp

Chilli Powder

1 tbsp

Big Chillies

3

Chilli Padi (optional to amp up the spice)

3

PASAR Old Ginger (Prepacked)

1 tsp

Galangal

1 tsp

Dried Shrimps

1 tsp

Lemongrass (the white part only, bruised and sliced)

1 stalk

Gula Melaka (brown sugar works fine too)

1 tsp

Chilli Sauce

Taucheo (bean paste)

1 tbsp

Chilli Sauce

1 tbsp

Tomato Paste

1 tsp

Chilli Puree

2 tbsp

FairPrice Tomato Ketchup

1 tbsp

Vinegar

1 tsp

Vegetable or Chicken Stock

1 cup
How to cook
Prepare the softshell crabs for deep frying
Mix the all-purpose flour, rice flour, salt and ground black pepper well in a shallow bowl. Set aside.
In a pan, pour in canola oil and bring to medium-high heat. Coat softshell crabs in the flour mixture lightly and tap away any excess flour. Deep fry until they turn golden brown, then set them aside to cool on a drying rack.
Prepare the spice paste
Make the spice paste (rempah) by adding all the ingredients to a blender and mixing until you get a fine and smooth consistency. Pour in a tablespoon of water each time if it becomes too dry.
Heat 1 tsp of canola oil in a clean pan over medium heat. Once the oil begins to smoke, add the spice paste and fry until fragrant.
Add the ingredients for the chilli sauce except the stock, making sure that you mix them well with the spice paste.
Add the vegetable or chicken stock and continue mixing. After this, you'll want to turn down the heat to allow the sauce to simmer for 2-3 mins.
Pour in the beaten eggs. Swirl them in the sauce very gently with a ladle. Go in one direction only so the eggs don't scramble; once the eggs look cooked, turn off the heat.
Prepare the lotus leaf buns for assembly
Steam lotus leaf buns according to the packaging instructions. Assemble by placing each crab into each bun and drizzling it with the chilli sauce.
Garnish with spring onions, coriander or even some sliced chilli padi if you like it really spicy! Serve warm.
Tried this recipe? Rate it!