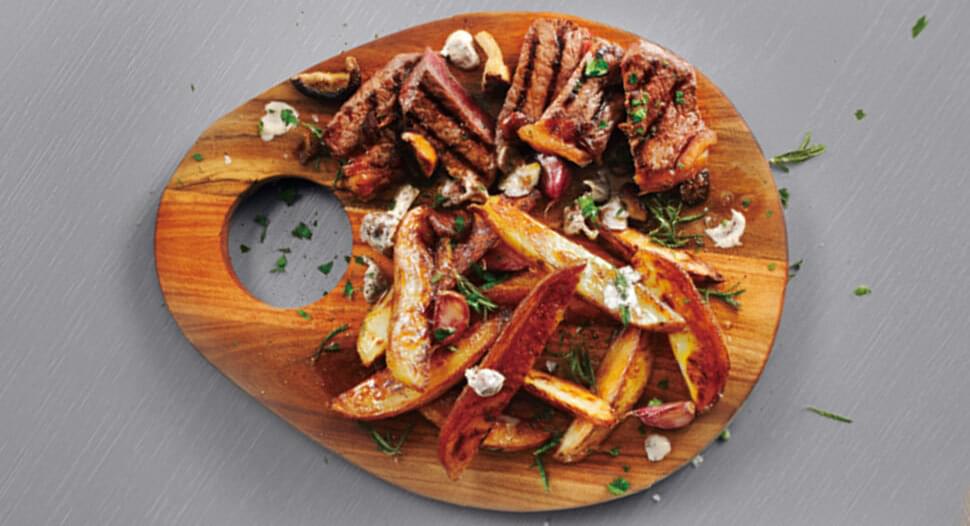 Steak with a Peppery Mushroom sauce
Ingredients
| | |
| --- | --- |
| Wild mushrooms | 2 |
| Garlic | 1 clove |
| Black peppercorns | 1 tsp |
| Olive oil | |
| splash Brandy (optional) | 1 |
| Quality sirloin steaks | 350 g |
| A few sprigs Fresh flat-leaf parsley | |
| crème fraiche | 2 tbsp |
How to cook
Step 1
Wipe clean and roughly slice all the mushrooms, then peel and finely slice the garlic. Crush the peppercorns.
Step 2
Heat a splash of oil in a large frying pan on a high heat, add the mushrooms and fry for 3 minutes, or until golden.
Step 3
Add the garlic, crushed peppercorns and a pinch of sea salt, then cook for a further 2 minutes.
Step 4
Pour over the brandy (if using), and fry for 1 minute, or until the liquid has cooked away, then turn the pan off and set aside.
Step 5
Place a clean frying pan on a high heat to get screaming hot.
Step 6
Drizzle the steaks with a little oil, and season well with salt and black pepper, then rub all over.
Step 7
Place the steaks into the hot pan and cook to your liking: 1 to 2 minutes on each side for medium rare, 2 to 3 minutes for medium and 4 minutes for well done.
Step 8
Meanwhile, pick and roughly chop the parsley.
Step 9
Once cooked, remove the steaks to a warm plate to rest.
Step 10
Turn the pan down to low, add the crème fraîche, a splash of water and the parsley and mushrooms. Cook for 1 to 2 minutes, stirring well to mix through all the lovely meat juices.
Step 11
Serve the steak drizzled with peppery mushroom sauce, and the sides of your choice.