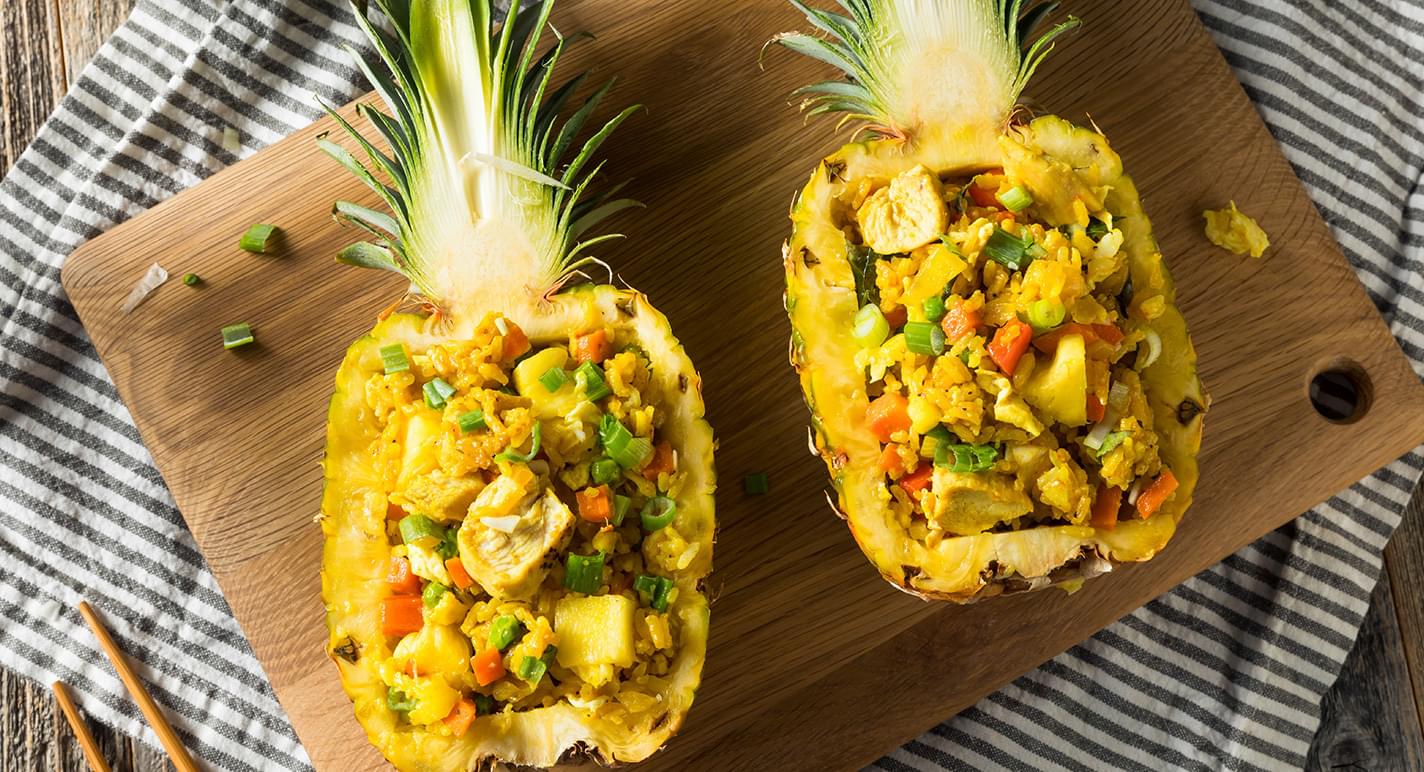 Thai Pineapple Fried Rice
Ingredients
Pineapple

1

Vegetable Oil

2 tbsp

Tiger/Grey Prawn

225 g

Garlic (Minced)

40 g

Onion (Finely Chopped)

50 g

Cooked Rice

4 cups

Raisins

1 cup

Pineapple

chunks

1 cup

Cashew Nuts

1⁄2 cup

Fish Sauce

2 tbsp

Oyster Sauce

1 tbsp

Sugar

1⁄2 tbsp

Salt

1 pinch

Spring Onion (Finely Chopped)

20 g
How to cook
Step 1
Cut the pineapple into half and remove the flesh to form a serving bowl.
Step 2
Heat up frying pan and add in cooking oil to sear prawn. Once cooked, remove from pan and set aside.
Step 3
In the same pan, add in more oil if needed and add in minced garlic and onion to cook for 30 seconds. Add in curry powder and cook till fragrant.
Step 4
Add the cooked rice into the pan and stir fry till the curry paste coats evenly on the grains and the rice grains are not sticking to one another.
Step 5
Add in raisins, pineapple chunks, cashew nuts and continue to stir fry for another 4 mins.
Step 6
Add in half of the cooked prawns and the seasonings – fish sauce, oyster sauce, sugar and salt – and mix well, continue to cook for another 2 mins.
Step 7
Remove from heat and place it on the 'pineapple bowl'. Garnish with remaining cooked prawns and spring onion and the dish is ready to serve.