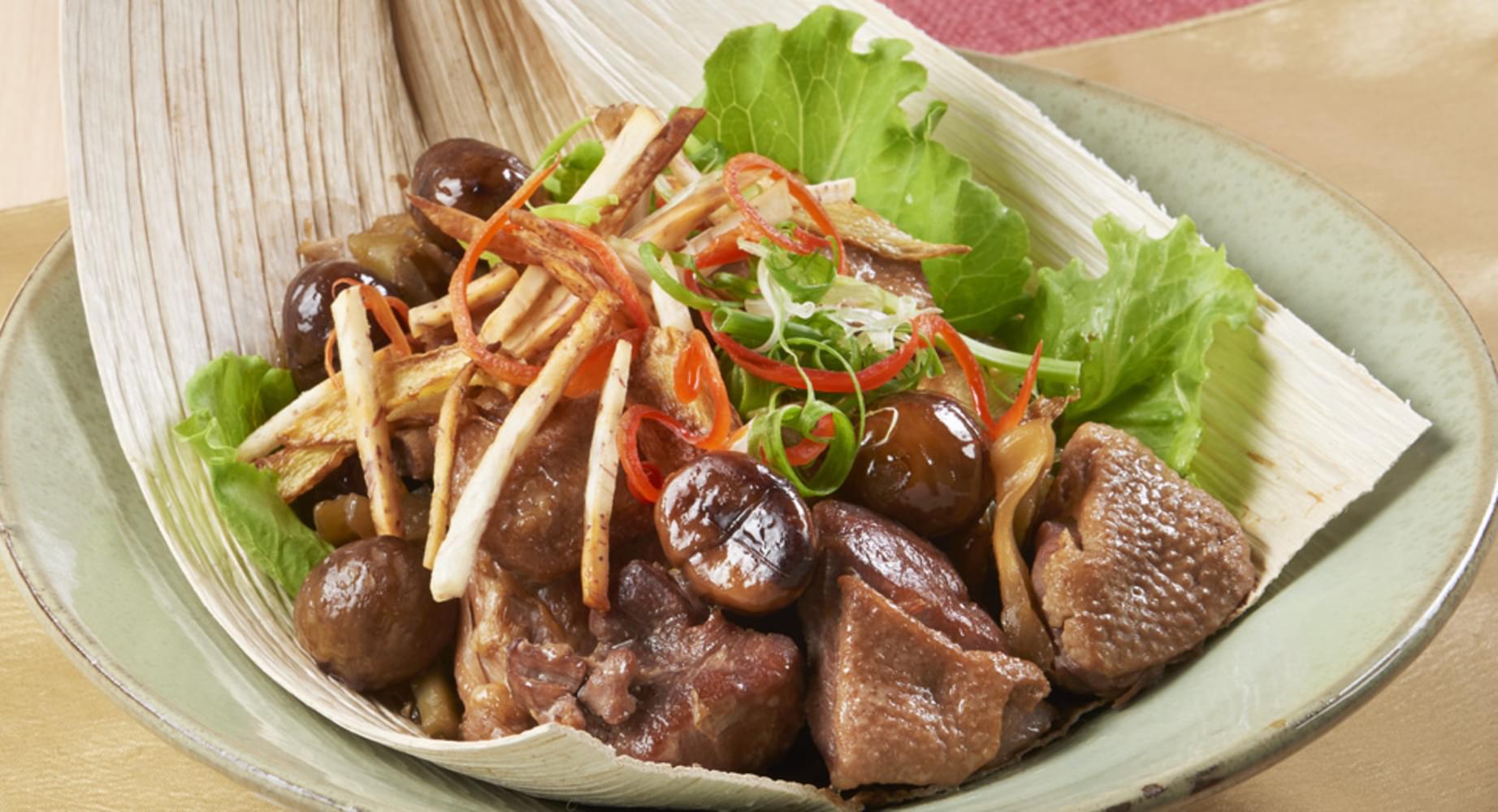 Treasured Sesame Oil Duck
Ingredients
Duck

(cut into pieces and seasoned with salt)

1⁄2

Yam

cut into thin strips

200 g

Chestnuts

cooked

360 g

Lettuce

for garnish

Red Chilli

for garnish

Sichuan Preserved Vegetables

chopped

200 g

Spring Onion

for garnish

Ginger

sliced

60 g

Garlic

minced

3 cloves

Hua Tiao Chiew

100 ml

Sesame Oil

20 ml

Cooking Oil

250 ml

White Peppercorn

1 tbsp

Oyster Sauce

2 1⁄2 tbsp

Dark Soy Sauce

1 tsp

Sugar

1 tbsp

Water

600 ml
How to cook
Prepare yam sticks & crispy ginger
Deep fry the yam sticks till crispy. Set aside.
Using sesame oil, fry ginger till crispy. Set crispy ginger aside. Reserve sesame oil for frying duck.
Start cooking
Using a pressure cooker, add reserved sesame oil, then sear the duck to render fat and brown. Remove and set aside.
Remove excess oil. Saute garlic, Sichuan preserved vegetables, white peppercorn, and duck.
Add sugar and oyster sauce. Continue frying for 2 mins.
Deglaze pan with Chinese wine. Add dark soy sauce and water. Bring to a boil.
Cover the pressure cooker and cook for approximately 25 mins (depending on your pressure cooker).
Add chestnuts and bring to a boil.
Layer local lettuce on the plate. Add duck and other ingredients on top.
Garnish with yam fries, crispy ginger, spring onion and red chillies.
Tried this recipe? Rate it!